The Smart Jar™ System for Evaporation
The Super Series Smart Box™
The Super series Smart Box™ is a flexible vacuum system platform that can be ordered configured for either evaporation or sputtering depending on the users specific requirements. With chamber diameters available from as small as 32″ to as large as 80″ a Smart Box™ can be designed to meet your production needs no matter how unique they are. Some of the benefits that are available with the evaporation configuration for the Smart Box™ are:
Full opening front door for ease of loading
Multiple sources, either electron beam guns and/or thermal sources for varied material requirements
Ion-assisted deposition (IAD) for dense moisture stable dielectric films
In-situ optical monitoring for accurate layer termination
Dual rotation tilt or fixed planetary for precision coatings
Single rotation domes for high system productivity
Addition of sputter sources for unique deposition requirements
Substrate heat for cleaner substrates and denser more homogenous films
Gas introduction and control for reactive film deposition
Electro-polished chamber, with in-situ heater and high speed pumping for lower cleaner partial pressure
Source distance dynamically variable and positionable
Production proven software tailored to meet your needs
The Super Series Smart Box™ for Evaporation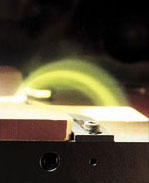 With over 40 years of experience, TM Vacuum Products offers innovative solutions for any thin film deposition requirement. The Super Series Smart Box™ is designed to meet critical production requirements. With chamber sizes from as small as 32″ to as large as 80″ available, almost any capacity and process requirement can be economically met. With the extensive combinations of sources and fixtures available, a Smart Box™ can be designed to meet all present needs and still have the flexibility to meet unanticipated future requirements. The Smart Box™ is designed to meet and fulfill your production needs both now and in the future.

Features and Options
Chamber size: Diameters from 18-48″, electro-polished stainless steel
Chamber cooling: Double-wall full water jacket standard
Pumping: Cryopump standard, turbomolecular or diffusion pump and cryo trap available
Meissner: Port provided, internal coil and closed cycle cryogenic refrigerator available
Base vacuum: Below 3 X10-7 Torr standard
Fixturing: Dual rotation fixed, or tilt adjustable, planetary or single rotation dome sized for specific substrates
Sources: Multiple electron beam guns and thermal sources, IAD and sputtering cathodes can be accommodated
Metrology: In-situ optical monitoring either via witness piece or substrate available. Single or multiple quartz crystal monitors as required for rate control and layer termination
Uniformity: Deposition uniformity of better than +/- 1% attainable
Capacity: Capacities controlled by chamber size and required fixturing configuration
Chamber heat: Chamber bake optional
Substrate heat: Temperatures to 400°C available
Controls: Full computer control with data logging for repeatable processes. Redundant manual control standard.