Vacuum Furnaces
Temps up to 2000°C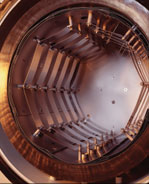 0.25 cu ft. – 0.34 cu ft. Work Zone:
VH-HV Flipper™
2 cu ft. Work Zone:
@ 10-3 Torr – Tool Room™
@ 10-7 Torr – Super Series™
3 – 7 cu ft. Work Zone:
Pacer Series™
12 – 36 cu ft. Work Zone:
Performer Series™
High temperature, High vacuum furnaces with precision temperature uniformity, state of the art control systems and all are available in 2 bar or 6 bar cooling pressures. Perfect for your precision heat treating and vacuum brazing needs.
Circular Vacuum Ovens
Temps up to 600°C 

.85 to 4.6 cu ft. Work Zone:
V/IG Series™
4.42 to 31.4 cu ft. Work Zone:
The Vacu Bake ™
Vacuum bake out and curing ovens capable of attaining temperatures up to 600C. Standard pumping packages available from rough vacuum to ultra-high vacuum capabilities. Intelligent touch screen PLC control systems and data logging capability.
SQUARE VACUUM OVENS
Temps up to 200°C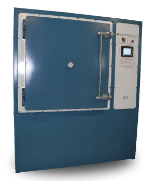 8 to 64 cu ft. Work Zone:
PC Series™
Vacuum bake out ovens with temperatures up to 350C. Heated and water cooled shelving available for the precise temperature uniformity. Heavy walled all stainless steel chamber to eliminate flex stress. Different pumping systems available for ultra clean ultra-high vacuum processing as required.