For Controlled Atmosphere Processing
Protect your processes and your personnel.
For over 40 years T-M Vacuum has supplied controlled atmosphere enclosures better known as Glove Boxes
T-M Vacuum has an extensive line of standard enclosures typically 24ä(60cm) deep with standard lengths from 24ä(60cm) up to 60ä(152cm)
Custom configurations can be designed to suit any unique requirement
With their experience in vacuum vessels
T-M Vacuum can supply a variety of heated or unheated interchanges
Features of Glove Boxes
All stainless steel construction
Externally Mounted light
Clear Plexiglas View ports
Gauntlet and Glove assembly
Ring clamp end plate permitting joining of enclosures or addition of later options
Positive or negative pressure operations
Available with the enclosure:
Purged two door interchanges
Vacuum Interchange
Heated vacuum oven interchanges
Tool interchange
Gas flow meters
Moisture monitors and oxygen analyzers
Water gas or electrical feed troughs
Sliding shelves for interchanges
Automatic vertical rising doors
Support systems
Gas dryers
Excess pressure relief bubblers
Standard Glove Box Configurations
Basic enclosure
Two port enclosure with a left side purged interchange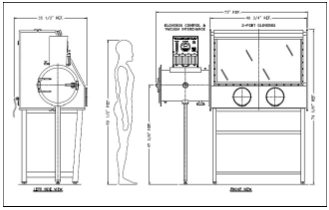 Enclosure with Tightly Controlled Environment
Four port enclosure with a 300C Vacuum Oven interchange on the left for work in and a purged interchange on the right for work out.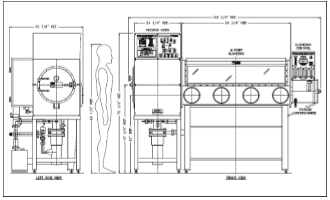 Custom Designs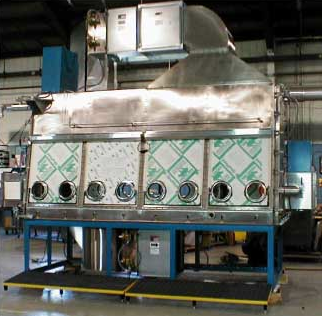 Eight port (4 pairs) controlled atmosphere enclosure with HEPA filtration system.
This system has eight work stations, 4 on each side two interchanges,one at each end and a HEPA filter air purification unit mounted on top.
Twin enclosure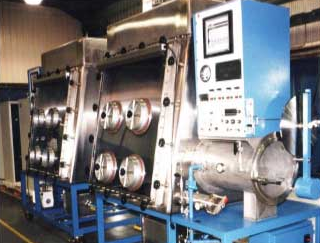 The two enclosures are mirror images of each other and joined in the center to allow work from one side to be passed to the other.
Atmospheric Interchange

Rectangular atmospheric interchange.Purged to eliminate contamination it is interlock to the inner door to maintain the enclosure environment.
Interchange with Vertical Lift Door in Raised Position

Cylindrical vacuum Interchange pumped by a mechanical pump prior to the work being purged. Vacuum greatly reduces the amount of contamination that can be introduced into the enclosure.The space saving vertical door is above and to the right of the interchange opening.
Safety features of Glove Boxes
All T-M Vacuum Products, Inc. products are equipped with standard safety features to ensure safe operation.
Please consult T-M Vacuum Products, Inc. at (856) 829-2000 for availability and pricing of these or any other option requirements.
*All times and pressures are for clean, dry, empty, out-gassed furnace, starting from ambient pressure and temperature, and may vary. Times and pressures subject to pump size and maximum temperature.