They are intelligent in their versatility.
The TM Vacuum V/IG vacuum ovens offer high quality, compact, yet versatile vacuum ovens at economical prices. With temperature capabilities ranging from ambient to 600°C, and incorporating any degree of vacuum environment from atmosphere to 10 -8 torr, the V/IG vacuum ovens offer a wealth of possibilities.
The V/IG Series vacuum ovens have a chamber that is a "Hot Wall" design, which allows full utilization of the inside of the vacuum chamber, maximizing the load capacity. With up to a 4″ thick, hightemperature sinsulation with reflective sheild surrounding its heater bank, the vacuum ovens maintain a stable processing temperature inside the chamber at all times. The V/IG series vacuum ovens offer standard inert gas fill and vent valves allowing for various types of part processing using a gas back-fill environment. With the standard touch screen PLC the operation of the system is fully automated with data logging of the process parameters.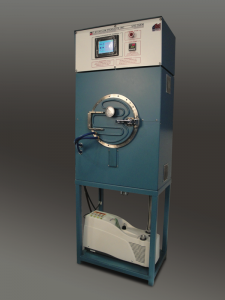 A convenient modular design, the V/IG Series vacuum ovens incorporate removable back plates to accommodate optional double door modification. This enables easy connection and interface with other processing equipment, such as either end of an inert gas environment (glove box) system for pass through applications.
The T-M Vacuum V/IG Series vacuum ovens feature several standard models with many options available, making it simple to control your process and its cost. Add the automated control package and create automatic processing cycles which enable an operator to simply load the vacuum ovens, then push the cycle start button!
Temperature Capabilities
03 Series: 350°C
06 Series: 600°C
Time to temperature**:

25 minutes under vacuum
35 minutes in atmosphere
Vacuum Pumping Systems
Several options available for V/IG Series vacuum ovens:
Basic 7, 11 or 23.3 cfm two-stage mechanical pump packages all with a valve, pump start switch and 0-1000 micron vacuum gauge installed
Upgraded pumping systems – Mechanical, dry, diffusion, cryogenic, and turbo-molecular
Mechanically refrigerated, optically dense cold trap in roughing line or Liquid nitrogen trap in high vacuum line (for prevention of hydrocarbon contamination)
Automated control system with heat control and backfill
Vacuum Ranges**
Mechanical Pump, Standard atmosphere to 35 microns
Dry Pump (oil free) atmosphere to 35 microns
Mechanical/Diffusion Pumps atmosphere to 1.0 X 10-6torr
Mechanical/Cryo Pumps atmosphere to 1.0 X 10-7 torr
Mechanical/Turbo Pumps atmosphere to 1.0 X 10-7torr
Operating Pressure Range**
Atmosphere to 10-8 torr
Working pressure at maximum temperature:
10-8 torr to 1 atmosphere
System Controls for V/IG Series vacuum ovens:
Color Touch Panel Operator Interface. PLC allows programmable ramps and soaks, vacuum set points, gas back fills, and automatically executes system overhead functions such as pump downs and vents. Capable of data logging
+/- 1 degree controllability
Active graphic vacuum map with instant overview of valve status and vacuum pump conditions
Programmable digital set point temperature control
Independent programmable digital over-temperature control
Digital vacuum gauge with a readable range from atmosphere to .001 torr vacuum pressure
PLC-controlled cycle timers and counters
Available: Automated Control Systems
Full PC control system, utilizing PLC, PC and HMI software technology. The system affords superior data aquisition and archiving capabilities.
Multiple survey thermocouples
Inert Gas System
Standard inert gas inlet and vent valve for gas processing applications such as backfill and venting
Available:
Closed-loop, multi-channel upstream gas flow control with downstream pressure control
Chamber
All stainless steel construction
Optional second door on opposite side for pass thru capabilities such as attachment to a dry/ glove box and/or to any other controlled environment enclosure
Special shelving arrangement option available
Optional water cooling of vacuum chamber walls for quick cooling
Available work zones*
Model#
Work Zone Size
Internal
Volume (ft3)
800 Series
11.5″ Dia x 14″ Deep
0.84
1200 Series
17″ Dia x 24″ Deep
3.15
Cylindrical Hot Wall chamber configuration consists of insulated resistive heater bank attached to the exterior of the chamber
Working pressure: Atmosphere to 10-8 torr**
Exterior
Chamber and controls are enclosed in a mild steel epoxy, enamel covered enclosure
All models available in clean room compatible configurations or in all-stainless steel enclosures
Safety Features
All T-M Vacuum Products, Inc. products are equipped with standard safety features to ensure safe operation.
Please consult T-M Vacuum Products, Inc. at (856) 829-2000 for availability and pricing of these or any other option requirements for vacuum ovens.
*All times and pressures are for clean, dry, empty, out-gassed vacuum ovens, starting from ambient pressure and temperature, and may vary. Times and pressures subject to pump size and maximum temperature.