It's Vertical – It's Horizontal…It Flips!
The T-M Vacuum VH-HV Flipper furnace is the first of its kind, remarkable versatility for all of your developmental and production needs. Within its all-stainless steel chamber is a horizontal 6″ x 6″ x 12″ deep work zone that can also be flipped vertically for an 8 ̋ x 12 ̋ work zone. With capabilities of up to 50 pounds of material for brazing, tempering, austenitizing, hardening, stress relieving, sintering, bonding, and many other custom processes.
With its standard all metal hot zone a precision heating environment of up to 2000°C can be achieved with precise temperature uniformity.
The specially designed hot zone to chamber ratio enables a faster pump downtime utilizing its standard turbo-molecular pumping system. Add the inert gas on-board quick cool system and your process times can be remarkably fast!
Once you have determined your specific process parameters, enter it into the touch screen PLC control system and you have a completely automated process with data logging!
View The VH-HV Flipper™ Vacuum Furnace System Video!
The VH-HV Flipper furnace is a completely self-contained unit, requiring no reassembly at your facility, and it is compact for floor space economy! Simply plug connect your electrical service, water, gas, and air and away you go!
If the VH-HV Flipper furnace is not large enough for your needs please ask about our Super Series Vacuum furnace system.
Specifications
Temperature Capabilities and Controllability
13 series – 1315°C (2400°F)
16.5 series – 1650°C (3000°F)
20 series – 2000°C (3632°F)
± 1 degree controllability
1-zone heat control with independent PID loop control
Vacuum Pumping System
Standard pump downtime

Atm. 0.1 Torr – 7 minutes
10-5 Torr Scale – 15 minutes

Mechanical pump – net pumping speed: 6.9 cfm
Turbo pump – net pumping speed: 270 l/s
Optional Inert Gas Quick Cool System
Free air displacement gas/water heat exchanger
Frame-mounted heat exchanger
Available:
Multiple process gas capability
System Controls
State-of-the-art PLC control system with automatic control and data logging of all system functions. System operation is defined by user created recipes stored on the system. More than 20 user friendly screens display all set points and operating data. Process parameter can be accessed and stored on the system in real time for historical reference or as customer required documentation. A GUI 6″ touch screen display provides ease of operation.
Independent over-temperature control
Digital vacuum display on PLC screen
Center of load thermocouple
Standard Emergency Stop
Available:
Multiple-survey thermocouples
Multiple mass flow controllers
100% hydrogen operation @1 Torr partial pressure or up to 2 psig
Operating Pressure Range
High-vacuum to 2 bar
Working pressure at maximum temperature: high-vacuum to 1 Torr (higher pressures available)
Hot Zone Construction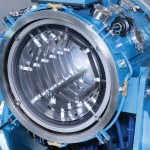 Horizontal usable work zone 6″W x 6″H x 12″D, 0.25 ft3
Vertical usable work zone 8″ dia. x 12″D, 0.84 ft3
Work load capacity 25 lbs. vertical and 50 lbs. horizontal
Cylindrical, hot zone comprised of six (6) high temp/low resistance molybdenum band heater elements
Heat shielding is composed of molybdenum layers in stainless steel containment
Complete hot zone is easily removable as a unit for fast maintenance and less downtime
Horizontal molybdenum hearth assembly is 6″W x 12″D
Vertical molybdenum hearth assembly is 8″ dia.
Available:
Tungsten insulation
Graphite and tungsten heating elements
Graphite insulation
Chamber
All stainless steel construction including head-end closure and water-jacketing
Dual-wall chamber configuration designed to allow complete water-to-surface contact
Stainless steel dual-wall, water-cooled door
Water cooling for power feed-thru is external to vacuum chamber, eliminating the possibility of water leaking into the chamber
Four clamp over center manual clamp/locking door
Working pressure: Full vacuum to 2 bar (6 bar available)
Safety Features
All T-M Vacuum Products, Inc. products are equipped with standard safety features to ensure safe operation.
Please consult T-M Vacuum Products, Inc. at 856.829.2000 for availability and pricing of these or any other option requirements